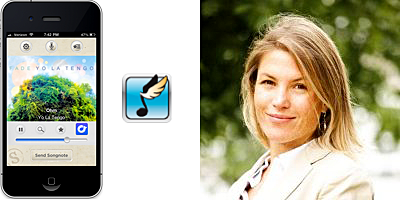 Meet Heidi Darling – Founder and CEO of Songnote. She will be pitching us at our 4/24 event on their new app – Songnote. Songnote allows you to share a song with a hand crafted note. Heidi reflects on starting Songnote:
"Songnote began with the realization that there was no good way to let someone know when a song reminded you of them.  There were several music discovery services like Pandora and listening platforms like Spotify but there was no mobile tool designed to share the song that moves you.  The emphasis was on discovery and access not conveying sentiment.  Music is universally appealing and an incredible communication tool.  A fast, fun way to share a song+note from your mobile device, Songnote™ harnesses the power of music as a way to communicate.  Simply put, it lets your music do the talking."
Check their app out at http://www.getsongnote.com | Follow them on Twitter @getsongnote | Like them on Facebook
If you want to see Heidi pitch live, come to the 4/24 event. Get your tickets here!