MIGHTY @ 119 UTAH, SF, CA

5:30 pm - HAPPY HOUR DRINKS, FREE TACOS! 7:30 pm - LIVE DEMOS & DISCUSSIONS
 
8.21 Program Note:
Due to a family emergency,
Fiverr had to reschedule their demo.
We'll see them in the house on 9/10.
Prezi
Steve Wishman, Senior Presentation Designer
At Prezi, we're all about helping people share ideas and understand each other better. Prezi is a cloud-based, zooming presentation software that lets you arrange your ideas on to a single virtual canvas and see how they relate, helping you connect with your audience and tell your story more effectively. Zoom out to see the big picture and zoom in to see the details—and never settle for a boring slide deck again. http://www.prezi.com // @prezi
Fiverr
Jennifer Neeley, Digital Strategist
Fiverr is the world's largest marketplace for gigs and services starting at $5. http://www.fiverr.com // @fiverr
BitBalloon
Michael Ruescher, CMO
Your website, a whole lot faster. BitBalloon is a new way to deploy websites. Simply drag and drop your site onto the app. In one fell swoop, it's optimized for performance and uploaded to the fastest cloud servers available. And, your forms just work. https://www.bitballoon.com // @bitballoon
SaaSMAX
Dina Moskowitz, CEO
SaaSMAX is to the SaaS landscape what the Realtor Multiple Listing Service (Realtor.com) is to the Real Estate landscape, bringing together sellers, brokers and buyers and providing transaction and marketing tools. http://www.saasmax.com // @WiseSaaS
SituGlobal Tom & Tina Sjogren, Founders
The (patent pending) SituGlobal software/hardware solution allows an incident command team to rapidly assess location and status of individuals during a disaster utilizing a cloud based situation platform and open a direct two way communication to its members. http://www.situglobal.com
Twibfy
David Robustelli, CEO, Founder, Creative
Twibfy is an inspirational platform where you can discover, share, submit and organize the content you love.
http://www.twibfy.com
//
@twibfy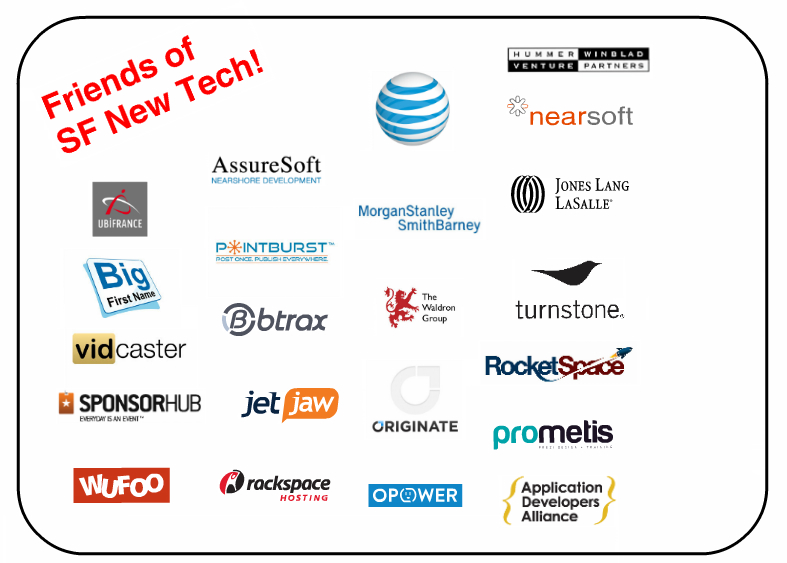 -------------
 
 
SPECIAL DISCOUNTS TO EVENTS WE LIKE:
4th Annual PR Summit (7.30-31)
Click here for 20% off
Telcom Council's TC3 2013 (9.18-19)
Click here for

30% off

- use code "SFnewtecher"
Pitch '13 @ AT&T Park

(9.19) Click here for

20% off

- use code

"SFNT713"
SF MusicTech Summit XIV (10.1)
Click here for

10% off
The Future of Money & Technology Summit (12.9)
Click here for

10% off