Tuesday, July 10, 2012 Mighty @ 119 Utah, SF, CA
Doors Open @ 5:30 Demos @ 7:30
Brett Solomon, Executive Director Access combines policy, technology and advocacy into a cohesive and ground-breaking action focused organization. Our mission? To protect the internet and to secure people's open access to it.   Recent impact includes rallying the international community on SOPA/PIPA with a 50 organization strong letter to the USG; our campaigns on CISPA and Protect Passwords; the release of the Global Proxy Cloud; a service that allows internet users around the world to support the Tor network to help citizens living in repressive regimes safely and securely bypass their country's firewall and gain access to the open internet; The Access Innovation Prize to identify bold new approaches in information technology that can promote and enable human rights or deliver a social good outcome with awards totaling $100,000 across 5 categories including one in partnership with Facebook.  See what Larry Lessig, Craig Newmark, Peter Gabriel, Alex MacGillivray, and others say about Access here. http://www.accessnow.org // @accessnow

Ioannis Verdelis, COO Ever wondered how a blind person can type on an iPhone? Ever wished you could actually type accurately and easily on a touch screen phone? Syntellia is developing revolutionary technologies for mobile devices, which are set to change the way people interact with their smartphones and tablets. Our first product, Fleksy is already changing the way visually impaired users type on iPhones and is set to make typing easier for every smartphone user. See the video at http://fleksy.com/ and see us at SF New Tech to find out more.  http://syntellia.com/ // http://fleksy.com/  // @fleksyapp

Mark Sarbiewski, CMO Clustrix is the leader in NewSQL distributed databases for transactional big data applications. Clustrix provides a radically simple NewSQL database that enables applications to scale to unlimited users, transactions and data, eliminates database sharding and automates fault tolerance. Customers include Symantec, AOL, MakeMyTrip, and Massive Media. http://www.clustrix.com // @clustrix
PoolParty Florian Kondert, COO PoolParty software supports organizations with scalable, easy to manage, corporate knowledge models.  http://semantic-web.at // @semwebcompany
Fenrir Greg Viloria, Marketing Evangelist A free web browser compatible with Windows, Mac, iPhone/iPad, Android and Windows phone. Another feature, "Fenrir Pass," is a free cloud service that allows users to access their own bookmarks from different devices. http://www.sleipnirbrowser.com // @fenrir_official
TheAppBuilder by JamPot Technologies Andrew McCartney, CTO/Co-Founder Create and distribute a cross platform app for iOS, Android, Windows Phone and HTML5 without any developer knowledge in just 5 minutes. http://www.theappbuilder.com // @TheAppBuilder
Joost Zuurbier, CEO
Last month ICANN, the Internet Corporation for Assigned Names and Numbers, has released the list with more than 1,900 applications for top level domains.  With so many new domain extensions added to the root zone over the coming years it is no doubt that registrants will have the ultimate choice of getting their right domain. The supply will be endless. In open economies unlimited supply result in a low price, a very low price. Freedom Registry is a registry operator for top level domains. What sets us  apart from other registry operators is that we believe domain names should  be free. It's time for a change. It's time to wake up. It's time for free domains.
http://www.freedomregistry.com
//
@freedomreg
$15.00 for early bird online tickets

$25.00 for all other (late bird) online tickets

$30.00 cash at the door if not sold out

Schedule

:

5:30 pm - Doors & Bar Open

5:30 -7:00 pm - Schmooze and Free Tacos! 7:30 - 9:30 pm - Live Demos 9:30 - 11:00 pm - Schmooze

*Mighty is a 21+ venue.
FOR THE FIRST 150 PEOPLE IN THE DOOR!!

| | |
| --- | --- |
| | CALinnovates.org is a statewide coalition focused on championing the conversation about the future of California's critical technology sector. CALinnovates.org brings together industry experts, thought leaders, tech innovators, policy makers and consumers in a non-partisan mission to promote innovation, create new jobs, spur investment and support tech-friendly policies. CALinnovates.org not only provides a medium for educating policy makers and for companies to network, but helps to connect the ideas of today for an economy of tomorrow. |
| | Our good friend Eric Ferraro is back! As a Shareholder at the law firm of LeClairRyan, Eric focuses his practice on the representation of private and public emerging and growth companies in the technology and digital media sectors as well as investors and financial services firms that focus on those industries. LeClairRyan is well-known as an entrepreneurial law firm that provides business counsel and client representation in matters of corporate law and high-stakes litigation. If you're in need of counsel for your startup call Eric first. |
| | btrax, Inc. is a San Francisco based creative agency serving global markets for over 6 years. Our team has a wide range of experience from handling UI Design, User Experience Consulting, Social Media Marketing, Branding and Identity, Startup Prototypes, Mobile development, to website localization for the Asian market. We are proud to be a Platinum sponsor of SF New Tech and serving them as their creative partner. |
| | |
MEDIA SPONSORS
GROW

Conference 2012
August 22-24th, 2012
Vancouver, B.C.
Re-Thinking Business: Staying relevant in a new era. The
GROW
Conference explores how the consumer revolution is changing the future of business. Engage or die. The social web has changed consumer expectations and empowered them with real-time information and a digital soapbox. They are your customers and your employees. In today's noisy marketplace with low switching costs, they can leave you at any time. To stay competitive, companies must create a culture of respect and openness, build a strong brand, and emotionally engage their community. In the land of 'me too' companies what you stand for and how you interact is your differentiator. Speakers: Joe Stump, Founder, 
Sprint.ly

; Neil Patel, Co-Founder, KissMetrics
; Rick Perrault, Founder, Unbounce
; Rand Fishkin, Founder, SEOmoz
; Dave McClure, Founding Partner, 500 Startups
; Sean Ellis, CEO & Founder, CatchFree
; Kate Rutter, Co-Founder & Principal, LUXr
; Scott Kveton, CEO, Urban Airship, others.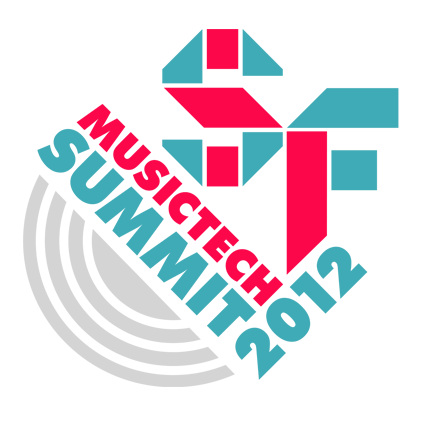 The SF

MusicTech

Summit XI brings together visionaries in the music/technology space, the best and brightest developers, entrepreneurs, investors, service providers, journalists, musicians and organizations who work with them at the convergence of culture and commerce. Held on October 9th at San Francisco's Hotel Kabuki, we meet to discuss the evolving music/business/technology ecosystem in a proactive, conducive-to-dealmaking, B2B environment.  Speakers include Theda Sandiford of Universal Republic Records, author Rob Reid of Listen.com, Genevieve Jewell of The Collective, Matt Urmy of Artist Growth, Sahil Lavingia of Gumroad, Colin Brumelle of Twitter, Julie Samuels of the EFF, and more!
For tickets and more information, visit sfmusictech.com and save 10% with the code "sfnewtech"

.
Interested in being considered for a demo?