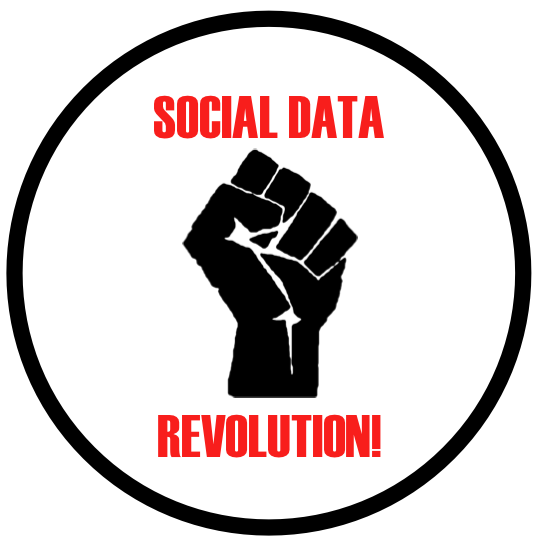 Join the leaders of the Social Data Revolution and create amazing possibilities for your startup! It's time to drop the ancient mindsets about what products should look like, and focus on the next generation of killer apps!  It is DAY ONE of exploring and exploiting what is possible in this new era of social data. Join us as SF New Tech peels back the curtain on the "Social Data Revolution" to learn why life as we know it will never be the same. On February 23rd,
Andreas Weigend, former Chief Scientist for Amazon
, will keynote and lead an all-star panel about the life- and business-changing ramifications of the proliferation of social data -- the Social Data Revolution. Panelists:
Eric Ly, Founder & CEO, Presdo; Co-Founder, LinkedIn
Christian Wiklund, CEO, Skout
Joe Stump, Co-Founder & CTO, SimpleGeo
Lars Leckie, Partner, Hummer Winblad
Michael Sha, CEO, Wikiinvest
Every day, we are being trained to share more-and-more information about ourselves.  And now, more than ever, information about your location, relationship status, and even your medical history and banking habits, are joining your emails, texts, clicks, searches, IMs, purchasing habits, and more in an ever-growing river of data that is freely flowing into the darkness. Or is it flowing into the light? Data mining is no longer the process of digging through data morgues to uncover scraps of still-viable information.  There's gold in them thar hills and success in the online marketplace now hinges on understanding how and why people create and share their data. Get a front row seat to the Revolution! We'll tackle these important questions:
How will you build a customer-centric, customer delighting product, that takes full advantages of the possibilities that social data provides (customer intent, social distribution, and individual context)?
How do you get your users, and how to you get them to do what you want (spread the word for you, share with you data about themselves), aligning with what's best for them?
How do you create the magic and give your users what they want, before they even know it themselves?
How do you collect, read, interpret social data?
Yesterday's metrics were designed for clicks and pages, poor proxies of the person, their intent, and situation. What metrics do you need that focus on the user and their context (mobile and social)?
The opportunity beckons build things from social data to make life better … or not. There's a revolution afoot -- a Social Data Revolution. Who wins?? Let's find out!
---
ANDREAS WEIGEND, Ph.D.
Dr. Andreas Weigend directs the Social Data Lab and teaches at Stanford. He works with companies helping them understand the Social Data Revolution and its irreversible impact on how we express our identity, relate to each other, and make purchasing and lifestyle decisions. Previously, as Chief Scientist of Amazon.com, he helped build the customer-centric, measurement-focused culture, important for Amazon's success.  Andreas is currently an advisor or board member of RocketFuel, Skout, Solvate, VillageVines, eCommera, and Peerius, as well as a limited partner at Founders Fund. Startups he co-founded or advised that had successful exits include Moodlogic (music crowdsourcing, to All Media Guide), Cleverset (recommendation technology, to ATG), Agoda (hotel reservations, to Priceline.com), Xiaonei (Facebook clone in China, to Renren), and Nugg.ad (behavioral targeting, to Deutsche Post).  Combining his focus on true customer-centricity with his expertise on consumer behavior and vision for social and mobile technologies, his also advises large organizations including Best Buy, Lufthansa, Thomson Reuters, and the World Economic Forum.  Andreas received his Ph.D. from Stanford in physics. His career as a data scientist combined with his deep startup and industry experience allows him to successfully bridge the gap between academia and industry. He lives in San Francisco, Shanghai, on Facebook, and on
weigend.com
.
ERIC LY
Eric Ly is Founder and CEO of
Presdo
Inc.  Presdo provides a new event social networking product called Presdo Match, which enables exhibitors, sponsors and attendees connect with each other at conferences and trade shows.  Prior to that, Eric was a co-founder at LinkedIn as its founding CTO, where he helped create some of LinkedIn's core product features.  He launched the team which created LinkedIn's platform.  He helped the company to achieve a quickly growing user base now reaching more than 85 million and enabled the company to reach profitability.
JOE STUMP
Joe Stump has been scaling large websites for more than ten years. After spending a few years as Digg's Lead Architect, he struck out on his own, with Matt Galligan, to found
SimpleGeo
. Currently as CTO of SimpleGeo, he's responsible for architecting and scaling a robust GIS infrastructure for developers around the world.  Prior to working at Digg, Joe was the Director of IT at eNotes.com, where he architected a content management system capable of handling content from numerous sources and providers, including simple database records, XML/XSLT and PDF documents. Prior to that, he was a Web Developer/Systems Administrator for Care2.com, Inc.  Joe has spoken at numerous conferences, including Web 2.0 Expo, Future of Web Apps, Future of Web Design, Q-Con, South by Southwest, MySQL Conference and PHP-Con.  Joe is an expert in the LAMP stack and graduated from Eastern Michigan University with a BA in Computer Information Systems.
LARS LECKIE
Lars is a Partner at
Hummer Winblad
and has played a key role in the firm's investments in Aria Systems (SaaS billing and customer management), vKernel (Virtualization Infrastructure), Karmasphere (Big Data Analtyics) and NimbusDB (Scalable SQL database).  Prior to joining Hummer Winblad Venture Partners in 2006, Lars was involved in founding and operational roles at start-up companies. He was a co-founder of AutoFarm (now Novariant), a company focused on GPS and robotics. Lars was in charge of strategy, product marketing, business development and building the sales team across three continents. While Lars spends less time programming now, he started his technical career coding and hacking computer games. He is the holder of several US patents.  Lars is an avid sailor and a former member of the Canadian Sailing Team. He represented Canada sailing Snipes in the Pan American Games as well as other international events.  Lars has a Masters of Science (Engineering) from Stanford University and an M.B.A. from the Stanford Graduate School of business. He also holds an Engineering Physics degree from Queen's University (with Honors).  Lars currently sits on the board of Pancetera Software and Strobe.
CHRISTIAN WIKLUND
Christian Wiklun is the founder of the mobile people discovery app
Skout
. Skout is the first location based app for meeting new people nearby. The free app works like a dating gps, connecting like-minded people to one another based on proximity. Christian came up with the idea for Skout because he wanted to find a way to connect the real world with what was happening in the online space. Today, Skout boasts over 3 million members. As pioneers in the location social space, the company is expanding rapidly and Christian intends to keep pushing the boundaries of what's possible in the space. Skout has been featured on ABC World News, Good Morning America, CNN, and the New York Times.
MICHAEL SHA
Mike is the co-founder and CEO of Wikinvest.  Wikinvest is building technology that helps people make better, more informed decisions about their investments.  Their platform tracks over $10 billion in real assets and reaches an audience of over 10 million people a month.  Prior to creating Wikinvest, Mike held key positions at Amazon.com where he launched the Amazon Visa Card business, led product for Amazon Payments, and built a skunkworks team focused on building new strategic partnerships and initiatives. He received a BA in Applied Math and a MS in Computer Science, both from Harvard University.
---
$25.00 for early bird tickets
$35.00 for late bird tickets
$40.00 cash at the door if not sold out
Mighty is a 21+ venue.
Schedule:
5:30 pm - Doors & Bar Open
5:30 -7:30 pm - Schmooze and Free Tacos! 7:30 - 9:00 pm - Keynote & Panel 9:00 - 11:00 pm - Schmooze