MIGHTY @ 119 UTAH, SF, CA

5:30 pm - HAPPY HOUR DRINKS & FREE TACOS* 7:30 pm - LIVE DEMOS & DISCUSSIONS
(*

Free tacos for the first 150 in the door)
LIVE DEMOS!
Sumo Logic
Christian Beedgen, CTO
Sumo Logic is the next generation log management and analytics company that leverages Big Data for real-time IT insights. The company's cloud-based service provides customers with real-time interactive analytics at unprecedented petabyte scale. The Sumo Logic service is powered by patent-pending Elastic Log Processing™ and LogReduce™ technologies, and transforms log data into actionable insights for IT operations, application management, and security and compliance teams. Unlike expensive and complex premise-based solutions, the Sumo Logic service has a low TCO, can be deployed instantly, scales elastically and requires zero maintenance. 
http://www.sumologic.com
//
@SumoLogic

ShoppinPal
Sriram Subramanian, CEOÂ Â 
ShoppinPal is a mobile platform for brick & mortar retailers that combines the best elements of the Starbucks rewards and checkout experience along with Amazon-like product recommendations and analytics.
http://shoppinpal.com
//
@shoppinpal

Libon
Julien Hodara, Evangelist
Voicemail sucks, so we reinvented it, with a little more...  Voicemail with greetings on a per contact basis, transcription to text, dial on fixed and mobile lines to 30 countries, Chat with friends, emoticon and Facebook context displayed, and more.  Libon's Android version was released this summer and never been demoed in the US. 
http://www.libon.com
//
@libon
Pointburst Mick Twomey, Co-Founder PointBurst helps organizations create engaging social conversations that strengthen their brand & amplify social reach through their brand advocates.  http://www.pointburst.com // @thepointburst
ProxToMe
Carlo Capello, CEO Andrea Motto, CTO
ProxToMe is the FASTEST way to chat and share Dropbox files from your smartphone with your Facebook friends and people nearby. Move Gigabytes in an instant!  ProxToMe implements a proprietary proximity engine that allows a single device to detect all the nearby smartphones and automatically establish a communication with them all at the server level.
http://www.proxtome.com
//
@proxtome
AND MORE!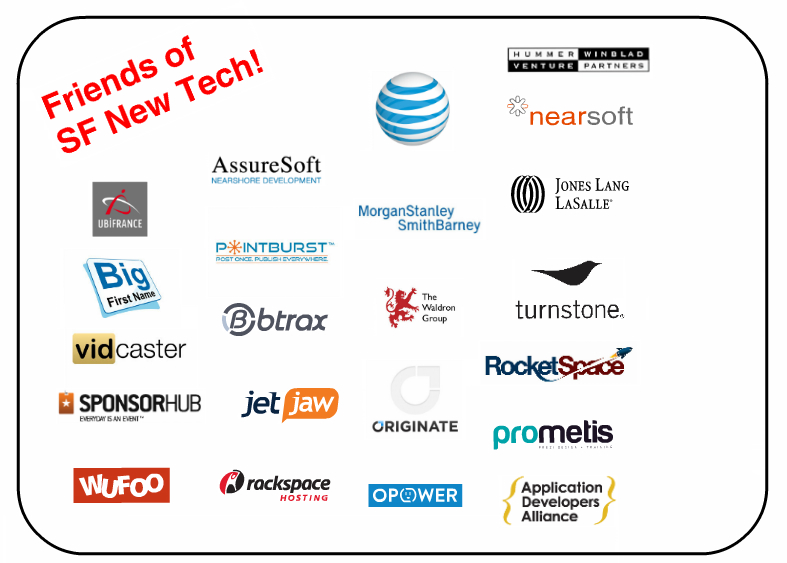 -------------
 
 
SPECIAL DISCOUNTS TO EVENTS WE LIKE:
FailCon (10.21)
FailCon is a one-day conference for technology entrepreneurs, investors, developers, and designers to study their own and others' failures and prepare for success.
Click here 
for
 15% off
 
GMICÂ (10.22)
GMIC is Silicon Valley's largest mobile conference and will host 10,000+ mobile executives, entrepreneurs, developers, and investors from 60+ countries.

Click here for 20% off -

 

use code "

PP-GMIC-SFN20

"
 
The Future of Money & Technology Summit (12.9)
The Future of Money & Technology Summit discusses the evolving money ecosystem in a proactive, conducive to dealmaking environment.
Click here for

10% off