Travelling by car these days can be a bit much to deal with because everyone is always on the go (traffic) and gas prices aren't quite so friendly on your pocketbook. Waze, a very intuitive, free app for your smartphone (iOS and Android) helps you get from point A to B in several different ways.

First and foremost, Waze has always been saving you time by being a fun, community-based GPS traffic and navigation app. Currently, with its latest update (3.2), you're now able to save money by making it easy to save on gas, and who doesn't want that? Waze helps you find the cheapist gas around you, or along your route. It also has specials at select gas stations. Simply redeem your digital coupon when you arive at the participation station and save. All the pricing, much like everything at Waze is updated by you, the community.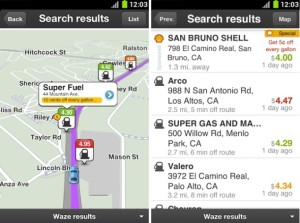 Another new feature is adding a stop along your "route". You can choose through multiple "Search by Category" features. This feature is kind of like Foursquare's explore option that they just added, however you get realtime ETA to both your stop and final destination.
Download your free app today and start saving time and money in the coolest waze possible.