Archives for December 2013
Hi everyone! Hope the holidays are treating you well. Here are some pics from last week's holiday event. Enjoy!
Here are a few takeaways from our big holiday party!
__________________________
PHOTOS & VIDEOS!
* Visit the SkyDrive folder with the mother lode of photos @ http://sdrv.ms/SFNewTechHolidays & download the one of you looking silly! [Thx for sponsoring us, SkyDrive!]
* You may also seen the event photos up on our Facebook page, too? Go tag, baby! http://www.facebook.com/sfnewtech
* NerdStalker was in the house and they probably stalked you! Watch the video!
http://youtu.be/QJqLSHIyd4c
__________________________
BIG NEWS!
You heard it first! SF New Tech is partnering with Macworld/iWorld to host a panel called "The Next 6 Products About to Break". We'll be selecting the best new apps, accessories, software and utilities tied to Apple-products to showcase their innovations LIVE on the Macworld/iWorld stage in front of media, VCs, and end users. We'll be sharing details on how to enter in the coming weeks, but the buzz around these 6 hot products is sure to be huge. Macworld/iWorld generates over 2 billion media impressions – there is no better place to launch products for the Apple products market place. This is gunna be fun!
__________________________
DISCOUNTS TO MACWORLD/IWORLD
Score 3-day expo hall passes and 3-day conference passes to Macworld/iWorld (March 27 – 29, 2014) @ Moscone for only $10 & $149, respectively. Register with the promo code SFNT @ http://www.macworldiworld.com — sweet!
__________________________
WINNERS!
Big congrats to @Chrisbator, @Skinnyjeans, @Mohurley, @Dianasky, @Curtislu, @Irahulrana, @Libertymadison, @Aniline, @Magicsaucemedia, @Annebot who all walked away with awesome prizes!
__________________________
THANKS TO NEWAER & TRUNX
* NewAer – http://www.newaer.com
Hope you got to meet Nick Palmer, CTO of NewAer, which enables any smartphone to automate your life from physical space. Here his Nerdstalker interview live from Mayes: http://www.nerdstalker.com/2013/12/newaer-enables-any-smartphone-to.html
* Trunx – http://www.trunx.me
Hope you got to meet Sandra Ponce De Leon of Trunx, the newly launched cloud photo storage solution that's generating a lot of buzz lately because their focus on privacy. You're invited to score Free Unlimited Trunx Storage until Feb 2014. That's right — upload as much as you can now for free, forever. That means that any photo you upload to Trunx or any photo, video or EchoPix you take with the app from now until then will always be free. You can use 5 GBs or 500 GBs! After, it's simply pay as you go. Go upload privately now.
__________________________
UBER!
Your Uber code is still valid, use it or lose it! Register with code "sfntmacworld" and get 20% off your first ride. Or, 10% off if you've already been Uberized. Visit https://www.uber.com/go/sfntmacworld
__________________________
HELP!
Lastly, one of you beautiful women went home with an coat that wasn't yours! From the inbox: "Crazy odds but someone had the exact same coat as me (even the same size) — and I took theirs instead of mine. It is a Via Spiga coat, size 8, it has leather trim, and a silk black and white liner. Is it possible you could post it or send an email to yesterday's attendees? Mine had gloves in my pockets, and this one, although a bit newer, did not." Ring a bell? Get in touch!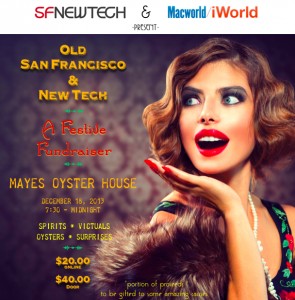 Hey gang! Here's the Nerd Stalker's 60s Spots they shot at our Old Tech / New Tech holiday party…Maybe you'll see some familiar faces. Check it out!Continue Reading
Thanks to everyone who attended our event on 12.11. The SF New Tech twitterverse pics from the event are here. Enjoy!
Meet Felix Puetsch and Markus Kuhnt co-founders of Go Fetch It. Felix and Markus will be pitching at our 12.11 event. Go Fetch It lets you define what you need and from whom–go fetch it makes sure you get it. Listen to the interview as Felix and Markus talk about the why they created Go Fetch It. Continue Reading