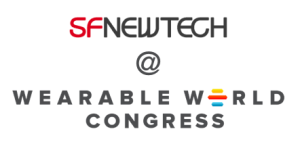 Hey everyone –
Here's something super-cool …
SF New Tech is showcasing some of the hottest wearable and IoT startups on May 19th and you're invited — for free!
Join us at Wearable World Congress (WWC15) as we hold court inside the "Startup City" exhibition at the iconic Palace of Fine Arts to see and hear from some of the best companies to come out of the latest class from Wearable World Labs.
Wearable World Congress is a two day mega-event I've been working on that's for anyone wishing to do business with the leaders of wearable and IoT tech. Wearable tech and IoT revolution represents the next —and likely the most significant— wave of tech innovation, representing billions of dollars of opportunity. Will you be a part of it?
The Startup City exhibit is free but you must register at http://www.wwcongress.com
Now, by securing a full conference pass, you'll reap even more benefits of this amazing event. Since I'm knee-deep in WWC and I have the keys to the discount code thing-a-ma-jigger — I carved out an exclusive discount just for SFNT. (Shhhhh..)
Plug in the code "SFNT" upon registration, and roll back to early bird pricing to save a whopping $504 dollars on a full conference pass.
Please hit it now before my boss finds out. 😉
More info and registration @ http://www.wwcongress.com
I really hope to see you at Wearable World Congress!
Cheers!
– Myles
_____________________________
STARTUP CITY @ WEARABLE WORLD CONGRESS
The Palace of Fine Arts Theater
3601 Lyon Street
San Francisco, CA
May 19: 10:00 am – 5:05 pm
May 20: 10:00 am – 4:00 pm
SFNT goes live at 1:50pm on Tuesday, May 19.
Wearable World Congress presents STARTUP CITY a FREE exhibit of the most innovative Wearable Tech on the planet!
** Discover products from 50 of the most innovative Wearable Tech startups in the world demonstrating products that are the leading edge of Wearable Tech innovation. ** Talk to Wearable Tech / IoT developers about where the industry is going
** Network with other Wearable Tech professionals and enthusiasts and market opportunities
BONUS – in addition to the STARTUP CITY exhibits, you can enjoy our EXPO STAGE:
– SF New Tech presents THE BEST of WEARABLE WORLD DEMO DAY (Awesome Startup Demos)
– A Special Wearable Wednesday program focus on Designing Wearable Apps
– Sponsor Clinics and Workshops by StretchSense and
– Special Crowdfunding presentation by Indiegogo
Discover cool products, learn, network and be a part of the Wearable Tech revolution! We're celebrating and you're invited!
Join us May 19, 20 at the Innovation Hangar at the Palace of Fine Arts for Wearable World Congress STARTUP CITY!
Register today at http://www.wwcongress.com
—————————-
WEARABLE WORLD CONGRESS
Come meet and do business with 1000+ leaders in wearable and IoT tech!
Notable brands joining us to chart the future at Wearable World Congress, including but not limited to:
Abbott Labs
AccuWeather
Adobe
Airbus
Akamai
Autodesk
Bayer
Bose Corporation
Dolby Laboratories
General Motors
Hearst
Hewlett-Packard
HSBC
IBM
Intel Corporation
MasterCard
Microsoft
Motorola
Movado Group Inc
Panasonic
PwC
Qualcomm
Salesforce
Samsung Electronics
SAP
Square
Swiss Re
Under Armour
United Airlines
Verizon Innovation Program
— and many, many others.
———–
Amazing Speakers convening at Wearable World Congress:
Aarthi Ramamurthy, Founder and CEO @ Lumoid
Adriana Lee, Tech Reporter / Editor, ReadWrite
Albert Lee, VP of Product, Connected Fitness North America, Under Armour
Alberto Torres, CEO, Atheer
Alex Wellen, Chief Product Officer, CNN
Andrew Dix, CEO and Co-Founder, Crowdfund Insider
Andrew Dix, Co-founder @ Crowdfund Insider
Andrew Flanagan, CEO @ TelCare
Ariel Garten, CEO & Founder @ InteraXon
Ayse Ildeniz, VP & GM for Business Development & Strategy, New Devices Group @ Intel Corporation
Casper de Clercq, Partner @ Norwest Venture Partners
Chris Bruce, Founder & CEO @ Sproutling
Deepa Sood, Founder @ Cuff
Eric Migicovsky, Founder & CEO @ Pebble
Ethan Schur, Chief Operating Officer @ Grush
Gawain Morrison, CEO & Co-Founder @ Sensum
Greg Ferenstein, Founding Editor, Ferenstein Wire
James Harrison, Vice Chairman of the Board & CEO @ Contour
Jay Nath, CIO @ City of San Francisco
Jeannine Sargent, President, Innovation and New Ventures @ Flextronics
John Dillon, Vice President of Marketing EMEA, Akamai
Josh Constine, Senior Writer @ TechCrunch
Kelly Starrett, Founder, SF Crossfit
Kevin King, President, CEO & Director @ iRhythm
Laurent Le Pen, Founder and CEO @ Omate
Lindsey Irvine, Global Director, Business Development & Strategic Partnerships @ Salesforce
Marcus Weller, Chairman and CEO @ Skully Helmets
Mat Honan, San Francisco Bureau Chief @ Buzzfeed
Matt Galligan, CEO & Co-Founder @ Circa
Neha Sampat, CEO, built.io
Owen Thomas, Editor-in-Chief @ ReadWrite
Philippe Kahn, CEO @ Fullpower
Redg Snodgrass, CEO @ Wearable World
Sam De Brouwer, Co-founder @ Scanadu
Signe Brewster, Science/technology journalist
Sridhar Solur, General Manager, Wearables and IOT @ Hewlett-Packard
Stephane Wyper, VP, Startup Engagement & Acceleration @ Mastercard
Tan Le, Founder & CEO @ Emotiv
Theo Forbath, Global Vice President of Digital Transformation @ Cognizant
Todd Greene, Founder & CEO @ PubNub
Urska Srsen, Co-founder & Head of Product @ Bellabeat
Yobie Benjamin, Industry Leader Wearable Technology & IoT
… and others!
We'll be discussing all-things-wearable and IoT, honing in on …
The Horological Smartwatch
Pioneering Medicine with Connected Devices
IoT for Cities
Transforming Media for New Form Factors
Brands Leveraging Wearable Tech
Connecting the Internet of Things
Blending Fashion and Technology
The Evolution of Crowdfunding
Connected Parenting in a Wearable World
Transformational Design & Wearable Technology
… and MUCH more.
JOIN US!

Comments Off

on SF New Tech @ Wearable World Congress – Free!