When serial entrepreneurs Cameron Brain (built and sold 3 web startups prior to this one) and Eric Roach (built and sold a brokerage company to Morgan Stanley, worked with & invested in several early-stage startups) met through a mutual connection, they hit it off right away.
The two teamed together and produced a blog called the RoachPost.com that focused on their own operational experiences as entrepreneurs – stuff like building a board, raising capital for startups and so on. They quickly realized that they didn't want to write a blog, but the  time that they spent producing content, promoting it, and building their readership set them on course towards an idea that would eventually become XYDO.
Given the sheer amount of content that's published on a daily basis, combined with the number of different channels through which you can consume it, the 2 co-founders felt that it's becoming increasingly difficult to separate the signal from the noise. So they've build XYDO, an app that approaches news and information from a people angle, not a pure aggregation or algorithmic angle.
XYDO is still in private beta, so we don't know anything more beyond this, however if you come to the SF New Tech event this Wednesday, you can directly quiz/grill Eric and Cameron, who will be giving a live demo of XYDO on stage.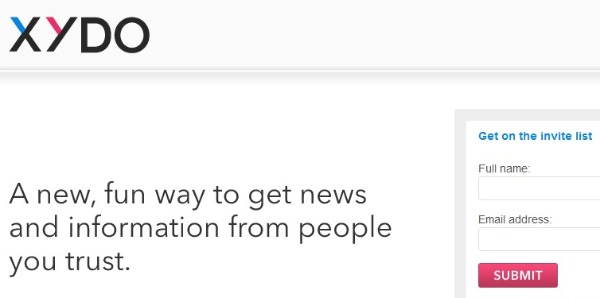 What else is in store for SF New Tech peeps?
XYDO will be offering beta invites to 100 members of SF New Tech. Simply follow this link to get set up with your own XYDO account.
If you don't snag one of the 100 invites, it's not the end of the world. Just
follow them on Twitter @xydoapp or
visit xydo.com and input your info and they'll include you in the next batch of invitations.
About XYDO
XYDO is based in New York City and is self-funded to the tune of $500K. The startup is now actively trying to raise their first round of outside capital.
Website: http://xydo.com
Twitter: @xydoapp
Facebook: http://www.facebook.com/pages/XYDO/104923692894968
Contact email: cbrain @ xydo.com
Feedback: http://getsatisfaction.com/xydo
CEO & Co-Founder: Eric Roach, @veroach, http://roachpost.com (blog)
Co-Founder: Cameron Brain @cameronbrain, http://roachpost.com (blog)